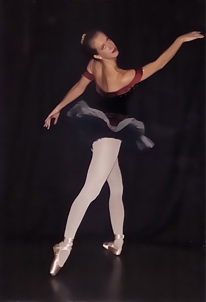 Stacey is a former professional ballerina. She began her studies with Darrell and Sally Notara's School of Dance and Acting in 1977 in Blairstown, NJ. where she rose to the rank of principal dancer. She then moved to Columbus, MS to study under Jozia Meiskowski at the Mississippi University for Women.
She went on to study with Harvey Hysell, director of Ballet Hysell, New Orleans, LA, before joining Coast Ballet of Gulfport, MS.
Stacey has performed in numerous ballet productions such as Swan Lake, Giselle, and Coppelia. She has performed in multiple productions of Nutcracker Suite, in roles ranging from the Snow Flake to Clara, the lead. Her partners included Daniel Sowers, Ian Carney and Robert Berg.
She continued studies with Cheryl Dawson Black and Sarah Karrant in Gulfport, where she became a senior member of Ballet Theatre South. Further studies took her to Rosine Bena, director of Sierra Nevada Ballet, at Peninsula Ballet Theater School in San Mateo, CA and to the Westside Academy of Dance in Santa Monica CA.
Stacey has taught ballet at all levels, first with MUW's children's dance division, Coast Ballet, and later with the Center Stage Performing Arts Studio, in Big Bear Lake, CA.
Stacey has a diverse training in multiple ballet methods, including French, Russian, Cecchetti (Italian) and ABT choreography.
Her desire to continue to teach ballet to children, whom she reveres as precious blessings, has brought her to TGAI, where she hopes to instill in their hearts the love of dance.