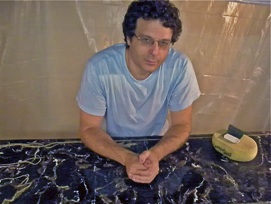 James graduated from Rutgers University's Mason Gross School of the Arts in 1988 with a BFA in Design for Theater. After working as an artist in professional theater, including the Santa Fe Opera, and the Spoleto Festival, USA, he opened his own decorative arts studio, specializing in murals and faux finishes for over 20 years. He has completed numerous public and private commissions including murals for the Newark Museum, The Columbus Citizens Foundation, and various restaurants from New Jersey to North Carolina.
James has always been interested in classical techniques. In 1993, he studied fresco in New York at Parsons School of Design. Inspired by his fresco teacher, Sheilah Rechtscaffer, James traveled to Ceri, Italy in 1997 to study Scagliola, a 16th c. technique for the fabrication and inlay of marbled plaster. He studied there with Olympia Serafin and Walter Cipriani.

Upon returning to the U.S., he began designing one-of-a-kind pieces, using traditional techniques incorporating his own designs. He also decided that this obscure technique deserved a wider audience, and began teaching in New York, Italy, and in his studio in Bangor, Pennsylvania. His discovery of the San Servolo School for Restoration in Venice led him back to Italy for further study with Patrick Tranquart. He has continued to teach and promote the technique, writing articles and consulting on scagliola restorations. He has trained many professional plasterers in the technique, most notably for the Architect of the U.S. Capitol. Throughout his career, his teaching has been an integral part of his professional life. In addition to Scagliola, he has taught decorative painting, watercolor, mural painting, fresco and drawing.

In 1989, he met his wife & Co-Founder, Angeline Wolf Gloria while painting scenery for the premier of a modern ballet in New York. An accomplished professional modern dancer and instructor of over 25 years, Angeline oversees the dance program at Totts Gap. It is their desire to make the Institute a regional center for the fine and performing arts, bringing a high level of professional instruction to the community.
Visit Jim's website.